A RIDE THAT BURNS
(Calories)
Just like in snowboarding, the Summerboard engages your hamstrings, glutes and quads. A recent study with UCLA found that using a Summerboard results in a higher calorie burn than jogging, biking and yes even snowboarding.
SATISFIED CALORIE-SHREDDERS
"I use it to keep my snowboard muscles active. It's all I have now as the state I live in has no ski resorts of any use."

Seth Lerner

"If you go hard at speed and are constantly in a squat its a burner for sure. Snowboarding you get a break on the chairlift but on this beast you just keep going."

Matt Dozier

"Considering how much energy it takes to ride a summerboard, there is no being lazy on it ever."

Dustin Forrest Yager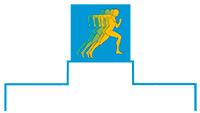 GET A HIGH CALORIE BURN
"Measurements of muscle activity patterns in Summerboard riders displayed similar patterns to that previously recorded in alpine snowboarders reflect the similarity lower-limb mechanics required in both activities."
UCLA Exercise Physiology Research Lab, Brett Dolezal
Jogging

7.9

Snowboarding

8.0

Summerboarding

9.0
Summerboarding was among the highest calorie burn among vigorous activities like jogging and alpine snowboarding.
DOWNLOAD THE STUDY