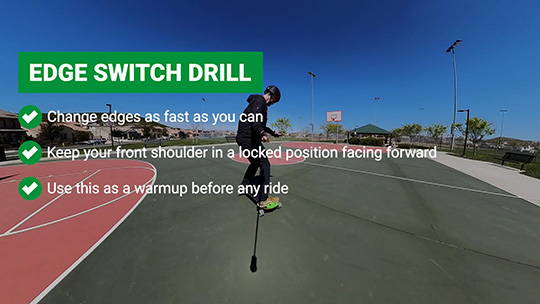 Learn to ride switch this summer, and hit the slopes shredding in switch in the upcoming 2023 snowboard season!
About the Switch Riding Training Course
Learning to ride switch is a dream goal of every snowboarder - but it just isn't worth wasting your trip to the mountain trying to learn!
The Summerboard solves this problem by giving you the opportunity to learn to ride switch off the mountain, then bring these skills to your snowboard season.
• COMPLETE THE INITIAL TRAINING FIRST

• TAKE IT SLOW AND YOU WILL LEARN FASTER

• FREE COACHING IS AVAILABLE
Go through the training course and take it slow to learn faster. Know that it may take up to 6 weeks to get proficient at riding switch - but also know that all it takes is a commitment to learning and you will learn to ride switch.

For FREE personal training, please email coach@summerboard.com